CellMek SPS
Sample Preparation System
Since 1986 we have automated and innovated tools to empower process optimization in laboratories across the globe. Now we enter the next level of lean processing by introducing the CellMek SPS system, designed to automate an end-to-end flow cytometry sample preparation workflow without user intervention. Cut stress. Boost flexibility.
The CellMek SPS system helps you unlock the power of lean by addressing major process wastes related to sample preparation in your clinical flow cytometry laboratory.
Drives Efficiency via Automation.
Standardizes Processes & Reduces Potential for Error.
Ensures Flexibility Via User-Defined Protocols.
Provides Confidence in Results facilitated by a full audit trail.
Frees up lab staff to deal with more value-added tasks.
CellMek SPS Features
The CellMek SPS system helps your lab reach the next level of process optimization. It is designed to simultaneously manage various preparation methods in random access while providing continuous loading, optimizing efficiency and traceability.
Customized Flexibility
Panel Designer Software lets you easily design your own protocols
CellMek SPS takes care of scheduling - no need to batch by application
Many options such as lysis, washing steps and volumes to pipet
Uninterrupted Workflow
Onboard washing capability with customizable washing steps
Both pre- and post-washes are optional steps of the sample prep workflow
Automated rocking and cap piercing - no need to manually unscrew specimen tube caps
Optimized Time to Result
Continuous loading & unloading of samples through tube-specific cassettes
Parallel Processing to help optimize scheduling and sample throughput
Output carousel can be retrieved to start sample analysis while system prepares more samples
Traceable Inventory
A refrigerated 53-position liquid antibody carousel means reagents can remain onboard
Capacity for up to 12 DURACartridges - our innovative new format for dry reagents
All reagents and consumables are barcoded to provide automated tracking for a full audit trail
Unlock the Power of Lean
The CellMek SPS System is designed to enable lean processing. The LEAN concept provides a systematic approach to look at workflows to take out all non-value adding process steps, the so-called process wastes, in order to increase efficiency. The CellMek SPS System addresses the challenges associated with complex sample preparation in flow cytometry to increase lab efficiency and helps you to cope with increasing workloads. Are you ready to Unlock the Power of Lean?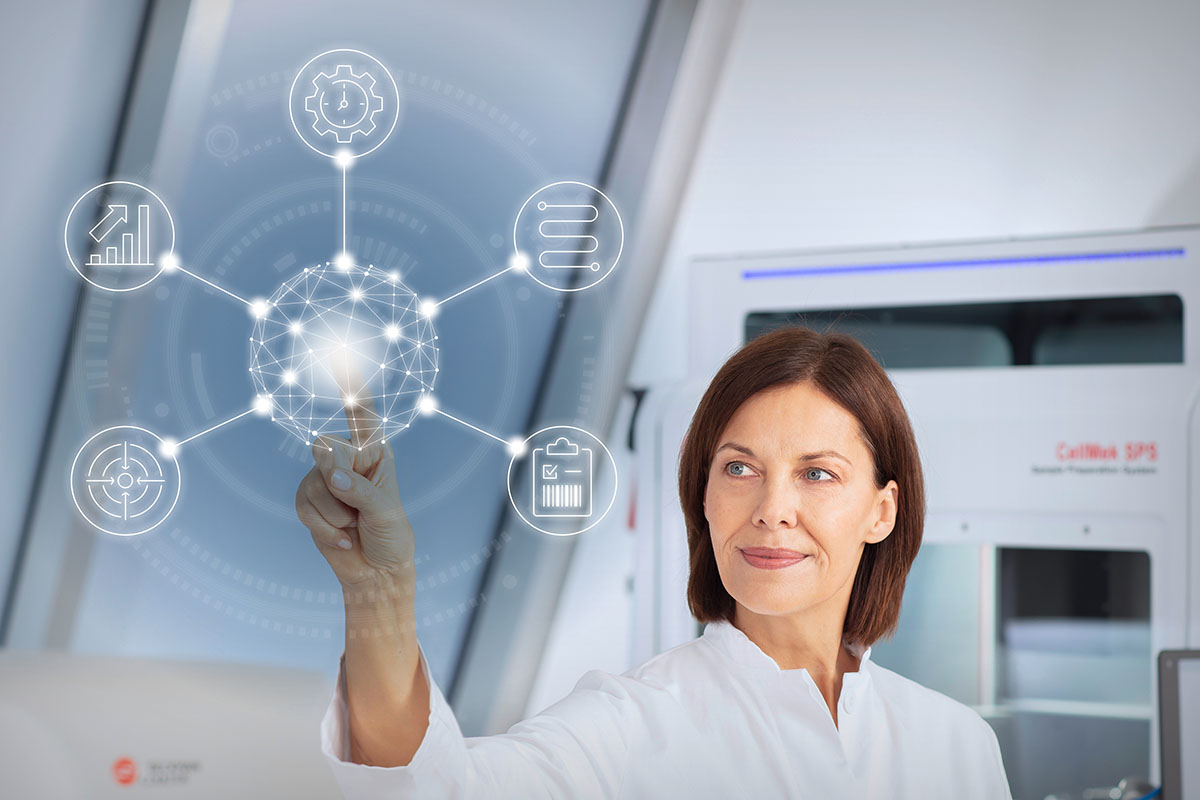 Learn more about CellMek SPS
Explore CellMek SPS Models
CellMek SPS Specifications
| | |
| --- | --- |
| Software | Panel Designer Software |
| Regulatory Status | IVD, CE-IVD |
| Power Requirements | 100-240 VAC, 50-60Hz, 10 A |
| Weight | 187 kg(412.3 lb) |
| Width | 112 cm(44.1 in) |
| Depth | 76.2 cm(30 in) |
| Height | 111.8 cm(44 in) |
Documentos técnicos
Didn't find what you are looking for? For more results click
aquí.