El futuro del UCA: potencial sin límites una vez más
Hoy día, con casi un siglo de antigüedad, el UCA se ha ganado el título de técnica clásica.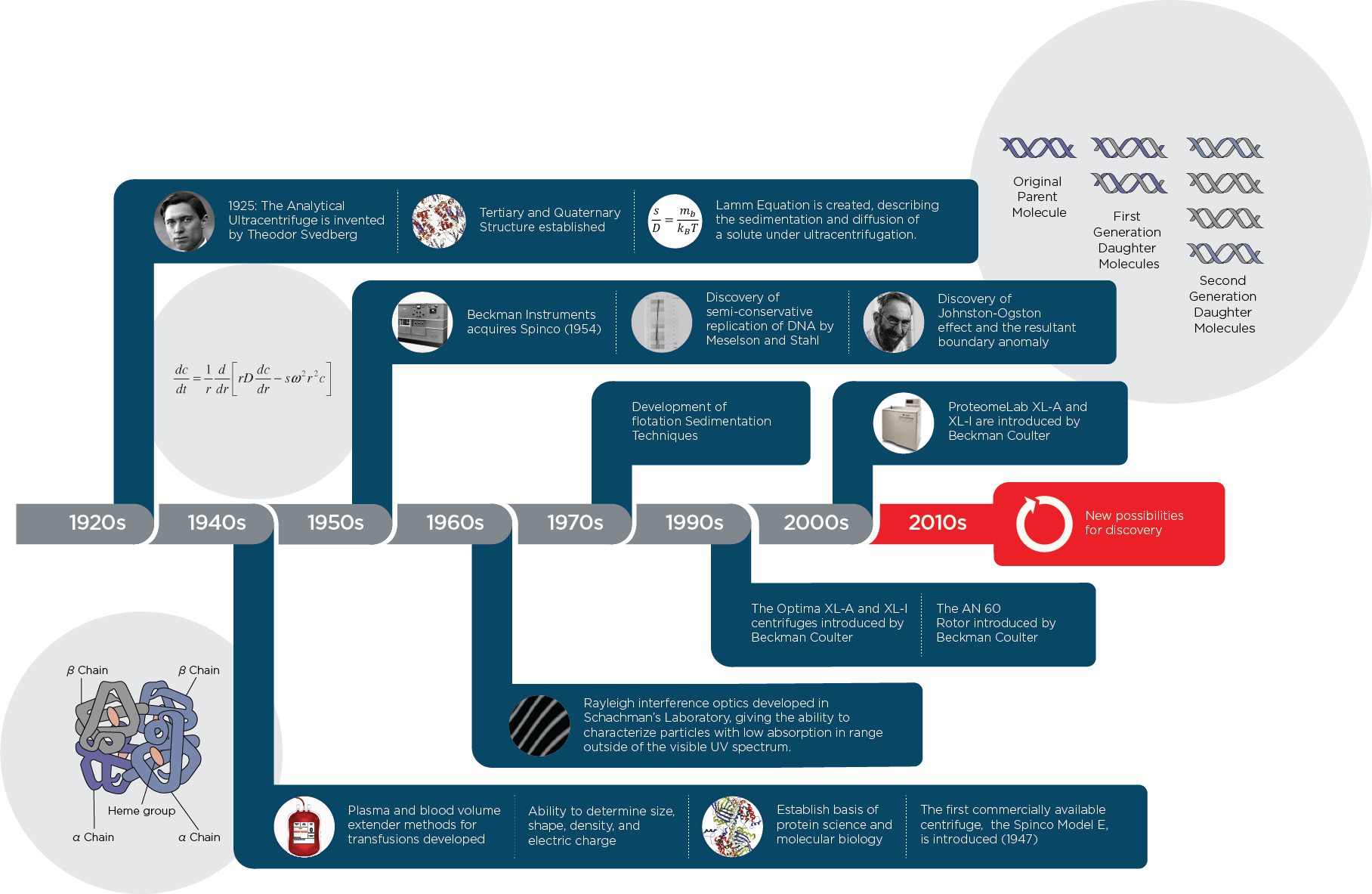 Hoy en día, el UCA tiene aplicaciones en prácticamente cualquier disciplina científica, entre ellas:
Biología celular
Biología molecular
Bioquímica
Inmunología
Biofísica
Química física
Química de coloides
Biotecnología
Biomateriales
Nanopartículas y otros
Aunque la mayoría de experimentos de UCA se realizan utilizando los métodos de velocidad de sedimentación (SV) o de equilibrio de sedimentación (SE) de columna larga, también se han desarrollado numerosas técnicas especializadas, entre las que se incluyen:
Sedimentación de zona analítica
Sedimentación diferencial
Mediciones de límites sintéticos
Técnicas de columna corta 21
Una investigación de PubMed realizada a mediados de 2017 revela cerca de 4.000 artículos publicados que hacen referencia al UCA.
Eso es un promedio de más de 42 trabajos al año desde que Théodor Svedberg construyó la primera ultracentrifugadora analítica del mundo en 1923.
Nada mal para una técnica analítica que ha visto su cuota de altibajos durante las nueve décadas siguientes.
En cuanto a las próximas nueve décadas, el destino es en avance y ascenso para el UCA.
Lectura recomendada:
An Improved Air-Driven Type Of Ultracentrifuge For Molecular Sedimentation, by E.G. Pickels and J.H. Bauer.
The Life of a Virus: Tobacco Mosaic Virus as an Experimental Model, 1930-1965, by Angela N. H. Creager.
Instruments of Science – An Historical Encyclopedia (Garland Encyclopedias in the History of Science), edited by R. Bud and D. Warner.
Howard Schachman, "University of California Professor of Molecular Biology: Discussions of His Research Over His Scientific Career From the 1940s Until 2010," by Sondra Schlesinger.
Biophysical Characterization of Proteins in Developing Biopharmaceuticals, edited by Damian J. Houde and Steven A. Berkowitz.
Sedimentation Velocity Analytical Ultracentrifugation: Discrete Species and Size-Distributions of Macromolecules and Particles, by Peter Schuck.
Analytical Ultracentrifugation: Techniques and Methods, edited by David Scott, Stephen E. Harding and Arthur Rowe.
21 Scott D, Harding SE, Rowe A, editors. Analytical Ultracentrifugation: Techniques and Methods. 1st ed. London: Royal Society of Chemistry; 2005.