El bloqueo de luz o detección óptica de partícula única (Single Particle Optical Sensing, SPOS) es una técnica de análisis de alta resolución capaz de detectar un bajo porcentaje de valores atípicos. También se puede usar para obtener una distribución de tamaño general; sin embargo, la concentración de la muestra es una consideración importante al utilizar un contador de partículas por bloqueo de luz. La muestra debe presentarse en forma diluida para el análisis.
El método por bloqueo de luz actúa al hacer pasar una corriente diluida de partículas por una suspensión líquida entre una fuente de luz y un detector. En el contador de partículas HIAC 9703+ ,la fuente de luz es un diodo láser, que ilumina las partículas individuales de la corriente para generar una sombra o cubrir la luz en el detector. Esta sombra representa el bloqueo de la luz. El detector mide la reducción de la intensidad de la luz y, por medio de una curva de calibración, procesa la señal para determinar el tamaño de la partícula.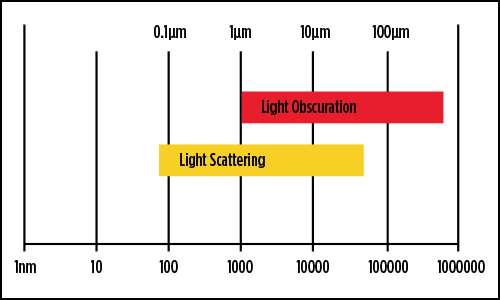 Light obscuration technique provides good results from one to several thousand microns for any kind of foreign material in a liquid.
El método de bloqueo de luz, ampliamente utilizado en diferentes aplicaciones farmacéuticas, está reconocido por ISO y USP como el método principal para medir el tamaño y la cantidad de partículas en diferentes muestras, incluidas las formulaciones a base de proteínas y otros preparados estériles.
Beneficios de la técnica de bloqueo de luz
Análisis rápido: resultados en segundos
Proceso automatizado: se eliminan los errores del operador
No se necesitan sustancias químicas/insumos adicionales
Capacidad de repetición y reproducción con distintos instrumentos
El contador de partículas líquidas HIAC 9703+ está diseñado para diferentes aplicaciones farmacéuticas y funciona para los análisis de USP <787> y <788>.
La técnica de bloqueo de luz ofrece buenos resultados de uno a varios
miles de micrones para cualquier tipo de material extraño en un líquido.