CytExpert Software for the CytoFLEX Platform
CytExpert is a highly capable software program that controls instrument operation, and data collection and analysis. Novice to experienced flow cytometrists can learn to operate the system quickly, confidently set up experiment based protocols and export publication quality data.
Default installation option requires no user login
User Management installation option contains features for user and role management
Electronic Records Management installation option provides tools for compliance to 21 CFR Part 11
View release note for the latest version
Acquisition Functions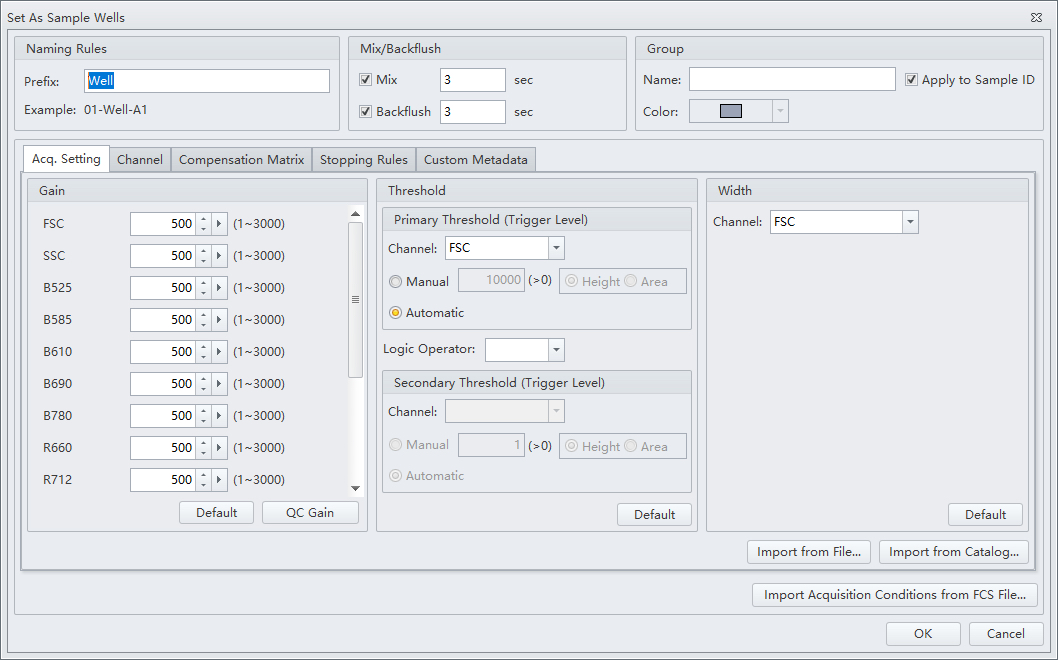 Acquisition Setting: Select the desired acquisition settings under the Acq. Setting tab. Settings may be imported from an FCS file or from the Settings Catalog.
Channel: Select the channels and create label names under the Channel tab.
Compensation Matrix: Set compensation under the Compensation Matrix tab.
Stopping Rules: Select Events to record, time to record, or volume to record under the Stopping Rules tab.
Custom Metadata: enter up to ten sample identifiers manually. Alternatively, import into a Plate Layout from a .csv file.
Analysis Features
Plot Types
Gates
Statistics
Compensation

Histograms
Dot Plots
Density Plots
Contour Plots
Overlay Plots
Pseudo Color Plots
Heat Map

Lasso
Polygon
Rectangle
Four-quadrant
Hinged
Auto polygon

Number
% Total
% Gated
% Grandparent
Median
Arithmetic Mean
Mode
Standard Deviation (SD)
Coefficient of Variation (CV)
Absolute Count

Adjusting Compensation
Saving a Compensation File
Saving a Compensation Library
Importing a Compensation File
Accounting for Autofluorescence
Minimum Computer Requirements
| | |
| --- | --- |
| Required processor | 4th Gen Intel® Core™ i3 (3 MB Cache, 2.90 GHz) equivalent or above |
| Required memory | 4 GB RAM or above |
| Required hard disk space | At least 1 G free space for the disk of the experiment for analysis. Recommend 10 G for data acquisition. |
| Required display | 1920 x 1080 resolution for optimal display |
| USB Port | USB 2.0 or above for data acquisition |
"));
CytExpert software request